Our Complete Guide To Chin And Jawline Filler 
Lip and Cheek Fillers may still be two of the most popular injectable treatments, but the recent buzz has been about the jawline. Why? Our desire to replicate the chiselled profiles of celebrities such as Angelina Jolie and Robert Pattinson probably plays some part, however, a basic genetic preference may also be at the heart of our obsession. 
Studies have found cross-cultural evidence for women favouring testosterone-dependent masculine traits, such as a defined jawline, which may explain why men are increasingly seeking filler treatments. 
But trusting someone to modify your appearance can be daunting. The majority of people request subtle enhancement, fearing the cartoonish or lumpy disasters produced by inexperienced and unqualified practitioners. Selecting an established practice is essential when opting for aesthetic enhancement. North West Aesthetics opened its doors in 2008 and all of its practitioners are trained to the highest possible standard in injectable treatments. 
Medical Director, Dr. David Taylor, has performed over 40,000 treatments and trains other professionals in the latest injectable techniques. But don't just take our word for it – before and after photos of Joshua's facial volumisation are all you need to see before booking in for Chin or Jawline Dermal Filler treatment at North West Aesthetics. 
Before And After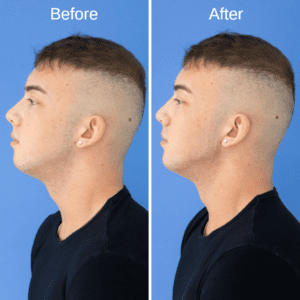 These photos demonstrate subtle and natural enhancement perfectly. A more balanced profile has been achieved by adding volume to the chin and the definition along the jawline creates a more masculine look. 
What To Expect From Your Chin And Jawline Filler Treatment
Before visiting the clinic for your treatment, you will be asked to undergo a pre-treatment consultation. During this time, your practitioner will complete a medical background check and talk you through the procedure, along with any aftercare that may be required. You will be able to ask any questions that you have and explain the look you wish to achieve in detail.
On the day of the procedure, the shape of your desired jawline will be marked up, giving the practitioner a guide to use while injecting. Filler will first be administered anteriorly into the chin, building its prominence, balancing the profile and giving more structure to the jawline. Your practitioner will gently press the area treated to ensure that the filler takes on the correct shape before moving on to the next injection site. 
Dermal Filler will then be injected into the mid-dermal layer of the skin along the length of the jawline. Particular attention will be given to the corners of the jaw to create a defined angle against the lower face. Results can be seen immediately, however, the full effect of the treatment may not be present until 6 weeks later. The introduction of the injected hyaluronic acid solution stimulates collagen production and encourages the skin to retain a higher concentration of water, leading to better results over time. 
Book Your Treatment At North West Aesthetics
When looking to subtly modify your appearance, trust the best in the business. North West Aesthetics offer first-class treatments at affordable prices. To book your Dermal Filler consultation, call 01942 909 003 or complete our online contact form. 
To see more before and after photos, treatment videos and special offers, connect with us on Instagram, Twitter and Facebook.